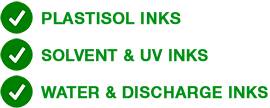 Image Mate DC 521 is our most economical dual cure. This is made for the screen printer who has quick screen turn-around and doesn't require fancy features.
Color: Blue
Solids: 34% Sensitized
Viscosity: Medium-High
Applications: General graphics using any ink type
View User Guide
View SDS
What our Customers Say:
"I get the job done AND I save money."

"We couldn't believe it - after arriving frozen solid, it was still usable the next day."
Bottom line - A no-thrills, good value emulsion.