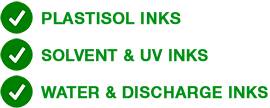 Image Mate DC 565 is a more robust version of DC 521. This formula provides a higher level a detail and durability, but at an economy price.
Color: Red
Solids: 44% Sensitized
Viscosity: Medium
Fine details and halftones
Textile and graphics applications
View User Guide
View SDS
What our Customers Say:
"I'm printing process colors and the results are stunning."
Bottom line - More beef for less dough.